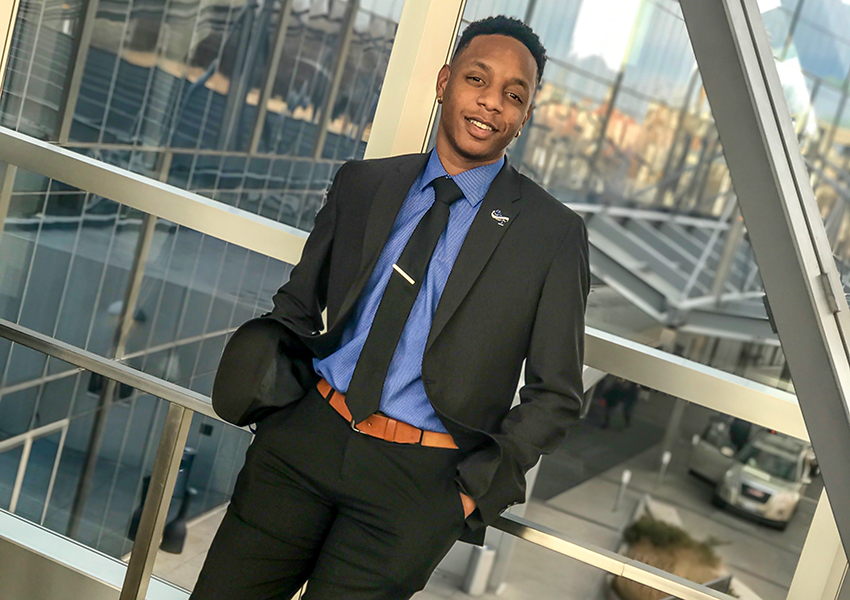 February 28, 2017 By PBSWest.org
TALENTED. CENTERED. FOCUSED. These attributes are not given lightly in today's society, however, Bro. Marcus McGhee exudes these qualities effortlessly. Marcus is a graduating senior, majoring in African American Studies Major with a concentration in film at the University of California, Berkeley. Bro. McGhee currently holds a 3.2 GPA and when he is not hitting the books, he works as a tutor and mentor at East Bay Consortium and also as an event manager for Intercollegiate Athletics Education on the Berkeley campus. If that isn't enough he is also President and CEO of Know Your Roots, an educational clothing line he created.
Marcus was initiated into our wondrous band on October 23, 2015 through Delta Beta Chapter. "I wanted to become a Sigma mainly because they are partnered with the March of Dimes which was an organization that helped me when I was born. I feel that it is my duty to give back to those who were dealt the same circumstance as myself. I also wanted to join an organization that wouldn't force me to fit some stereotype; I noticed not one Sigma was the same. They were all different in their own way, yet still had the same goals in mind. I wanted to be a part of an organization that wouldn't change who I was, but instead enhance my own abilities and sure enough that's what Sigma has done."
Three For The Founders...
1. At what age did you find out you were an artist?
"I started doing art work in the first grade, but it wasn't until third grade that I noticed I was different talent wise. When I would draw,all of my friends just stare and watch me draw, ask me to draw for them, andd eventually I got better over time."
2. Why did you create your own clothing line?
"I began this project in efforts to create an opportunity to educate. My goal is to encourage people to conduct research on their histories; to know their roots. I've found that people tend to show more respect for themselves and others when they know the intensity of each others struggle. By wearing my logo you are supporting togetherness, family, love, and unity. You are stating that you understand where African American people come from and that you are in solidarity with those who want to uplift black people and communities during these struggles with police brutality, and the overarching systemic issues of injustices that African Americans face today."
3. What are you plans after graduating from Berkeley?
"I plan on taking a year off to work, then enrolling in film school where I would begin following in the footsteps of some of my personal heroes: Spike Lee, John Singleton, Antoine Fuqua, and Ernest R. Dickerson."
Follow Bro. McGhee on his personal Instagram or on his business Instagram